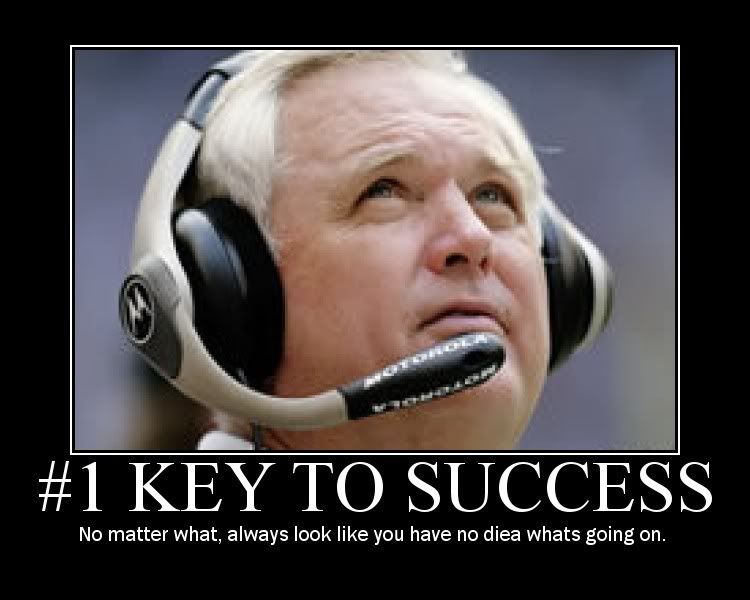 If I weren't so lazy, I'd come up with my own motivational with a much funnier line.
Of course, the big news of the day is the firing of Dallas Cowboys ex-head coach Wade Phillips. That's the good news for Cowboys fans. The bad news is Jason Garrett's the interim head coach, Jerry Jones is still the owner and GM, the roster remains unchanged (and unmotivated), and lastly, the Cowboys are still 1-7.
Jerry Jones had to find a sacrificial scapegoat following a 45-7 Sunday night shellacking at the hands of Green Bay. Unfortunately for Wade Phillips, there's a lot less paperwork involved in a coaching change than gutting the roster. The fact is, everyone in the organization is partially to blame, and the Wade Phillips era was doomed to failure before it began.
Their season officially ended the second Romo broke his collarbone. Let's forget the fact that no one on the team has given full effort since he got injured. Even if everyone on the team was giving 100% effort,
they're simply not as talented as previously advertised
.
Let's start with their backup QB, Jon Kitna. He wasn't a good backup when he was 36, and he certainly didn't improve in the (more than) two years since he last played. How is he still in the league? Romo's not injury prone but he's not invincible, either. No matter who your starting QB is, you should have a better contingency plan than a 38 year-old journeyman with a career passer rating of 76.5 and TD:INT ratio of 1:1.
What about the offensive line? They've got one of the oldest offensive lines in the NFL, and nothing was done to address that this offseason. They didn't sign anyone. They didn't draft anyone. The only change they made was the switch from Flozell Adams to Doug Free, which isn't really much of an upgrade or downgrade.
I do have to give props to Dez Bryant. He is playing with as much effort and determination as any player in the NFL. He's got a great future ahead of him if he keeps going down the path he's on. But I digress.
Wade Phillips was the commander, but it's not like he was able to handpick his soldiers. Other coaches might've been able to get more out of the Cowboys players than Wade Phillips has. However, it doesn't matter who the coach is as long as Jerry Jones refuses to empower someone else to make the football decisions for the team he loves so much. If he wants to see the Cowboys take the next step, he'll have to set aside his massive ego and relinquish control of the roster. Wade Phillips could've been successful if he was able to get the players that fit his system and responded to his way of coaching.